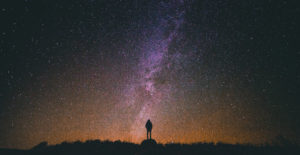 If you were to look down upon the world like you were looking down upon an ants' nest, seeing everyone going about their own business, sorting out their own little problems. Millions of them. What are they all doing? How are they experiencing the very same moment in time?
They are walking around on the same ball of dirt under the same sky as you; equally exposed to the physical and emotional dangers and opportunities as you.
In the grand scheme of things, there are millions of hearts being broken at exactly the same time that millions of people are falling in love. Millions mourning the passing of a loved one at the same time as millions of newborns are arriving.  Jobs being lost as promotions are celebrated.
Thinking about all of this, what are the chances of you ever living a perfect life unaffected by anything or anyone going on around you? This is a continuous cycle. The world doesn't change through your success or misfortune, it only appears so because your view of it changes.
Nobody really knows for sure the purpose of life (if there is one) or why you are alive at all in this particular form in this particular moment, but consider this: the universe may only exist within your consciousness… as little more than a dream… because your consciousness is what creates your life as you know it.
If that sounds a little far fetched then also consider that the chair that you are sitting on feels pretty solid; it is supporting the weight of your body which also feels pretty solid but we know they are both composed of atoms. Atoms are mostly empty space and the elements that make up the atoms are also mostly empty space. So how come we don't pass right through the chair?
Our eyes see the light from the red to the violet part spectrum, but we don't see infrared, ultraviolet, microwaves, radio waves or x-rays etc These are all the same form of electromagnetic energy, but at different frequencies, and we are only aware of a very narrow band experienced as visible light.
Clearly, how we experience the world is not the whole truth since our perception of it is limited by what we see, hear and touch. Reality isn't simply a collection of decoded events and circumstances. It is our interpretation of what our senses are telling us after we sort, name, categorise and associate the incoming data with past experience.
All this means that it is you that is the creator of your reality. We may all share the space and time here at this moment but nobody experiences the world exactly the same as you do.
We all create our own meaning in life whether we intend to or not, we all create our own experiences, and it follows that we all internally create our own feelings… and then most of us mistake the cause of our feelings as coming purely from external events and circumstances.
So when you look around you, remember that the world as you know it doesn't exist without you here to observe it. You are not playing a role in someone else's dream. All of this is unique to you and it all goes with you when you die.
Therefore, from this point forward, it's up to you to create the world how you would like it instead of blindly accepting the world how it appears to be. That is not to say you should wish that the events and circumstances were different themselves, but to start to accept that everything you experience is your own creation.
You need no-one else to complete you and no-one else can stand in your way. If you've lost someone then they were always a mirror of yourself. If someone is standing in your way then they are a mirror of yourself too. The love or fear isn't in them, it is inside you. That is always the illusion.
What's stopping you creating the life you want from now on? Every moment, you have the ability to choose; whether that is for choosing to continue your story where you left off yesterday or for turning a fresh page and beginning a brand new chapter today.
Look into the mirror and make friends with your creator…